yo yo yO! official CAKE recap 2012!
photos above: the micro-version of collective stench, left to right: me, kj, tom, and laura. below dat is a lil pic of our table, which served happiness (edited by me), gang bang bong (edited by inés and ginette), dimensions (edited by zejian), snakebomb (edited by jack), strep throat (edited by lph), and our individdggyyal minicommies. 
and these were the lovely ladies we were sharing a table with: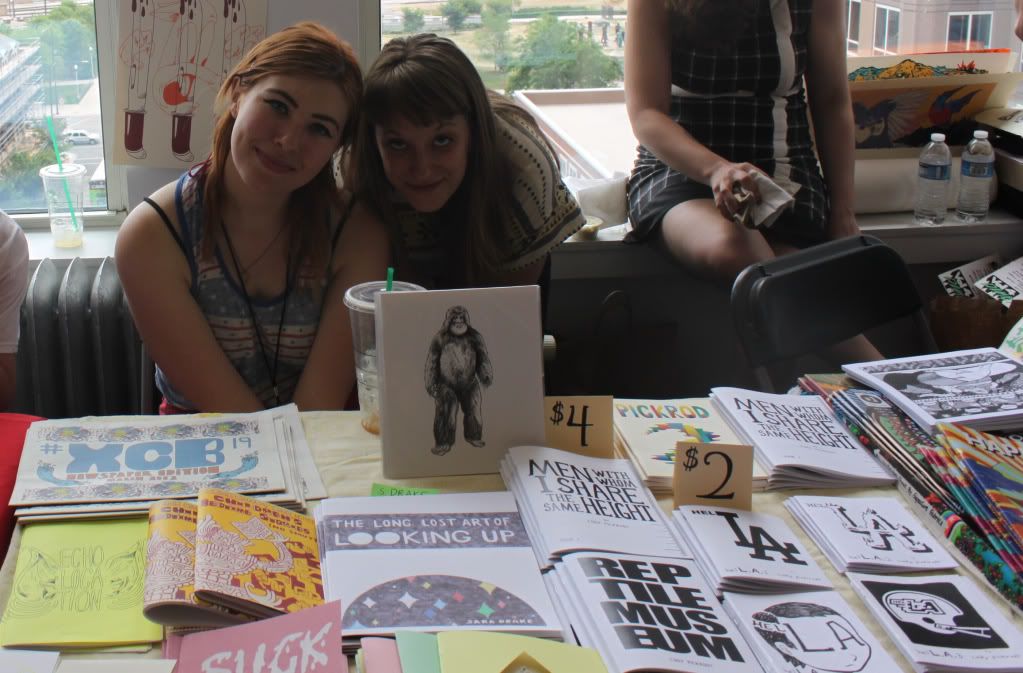 mo' table-ish pics :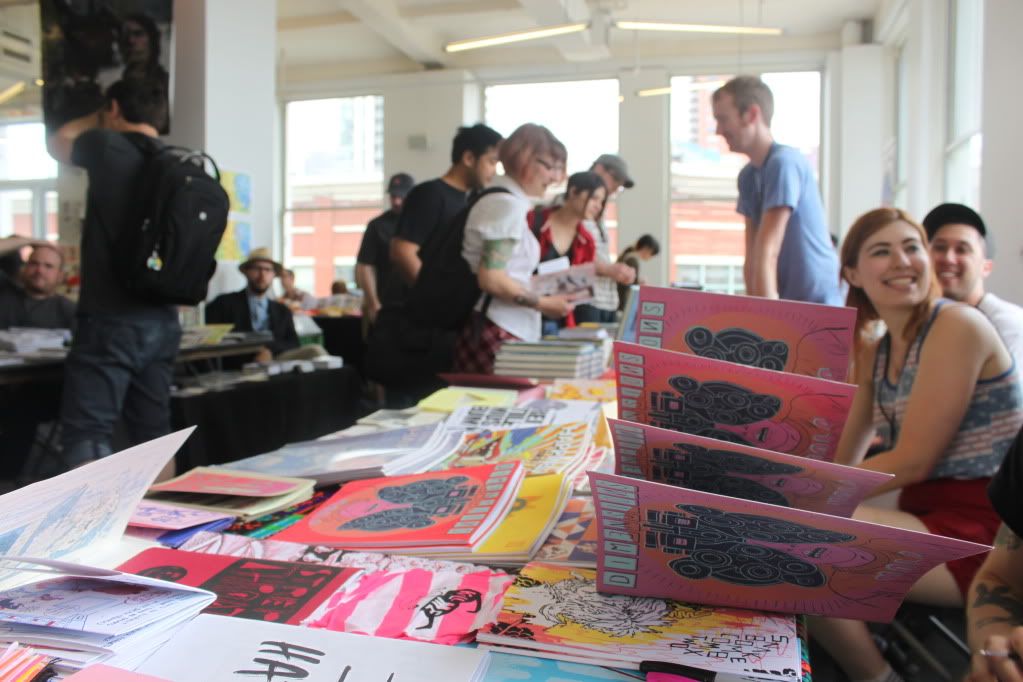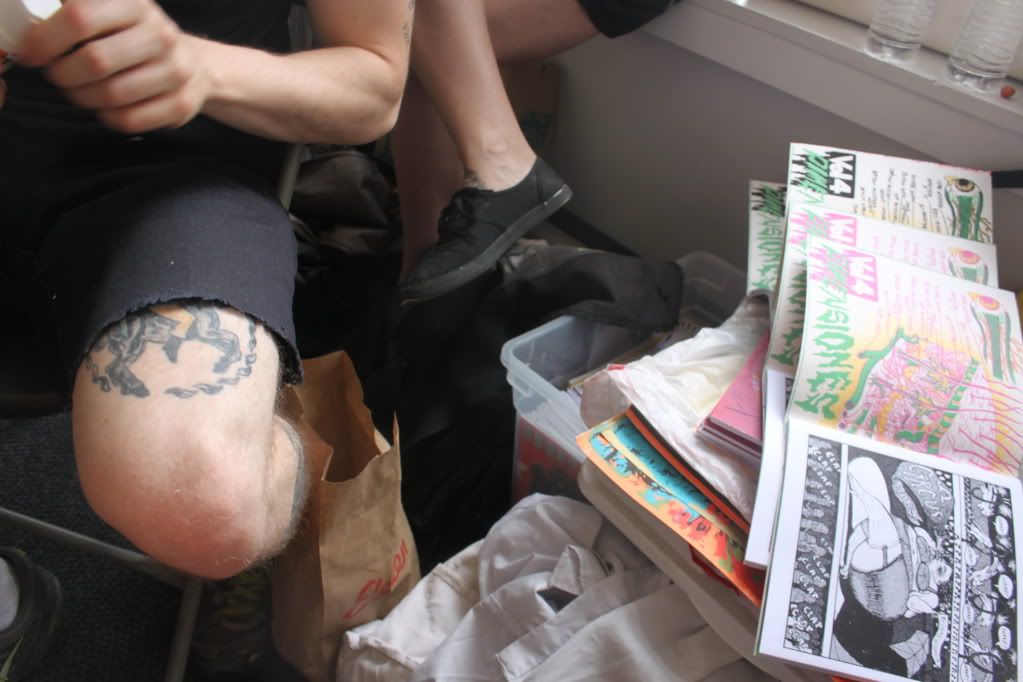 yes this is tom's leg and i find it to be very essential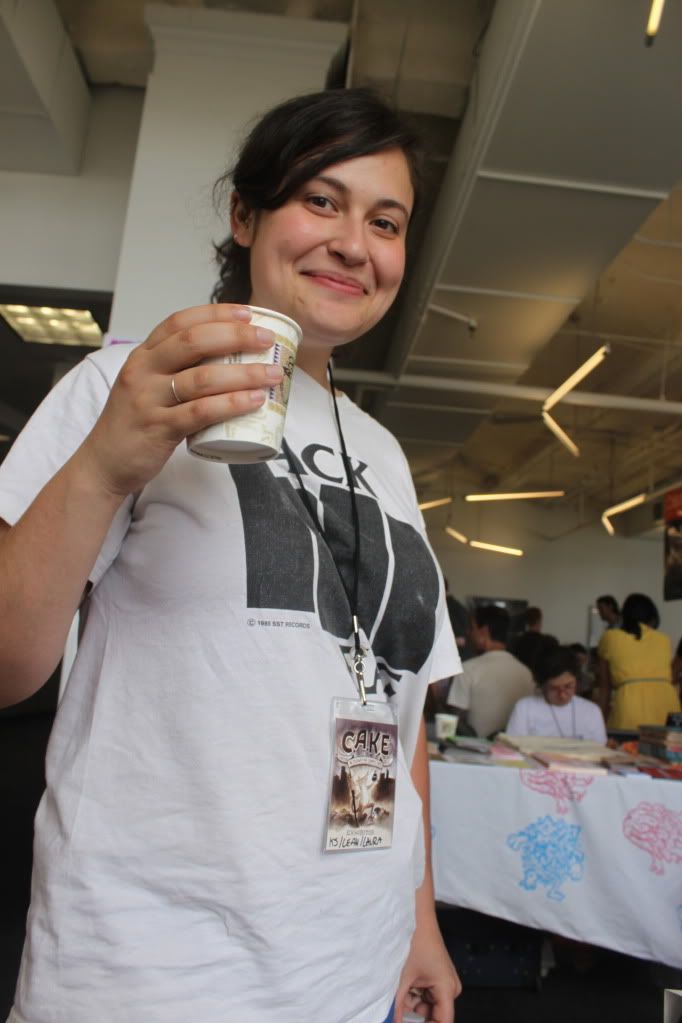 YO LADY I LIKE YO' SHIRT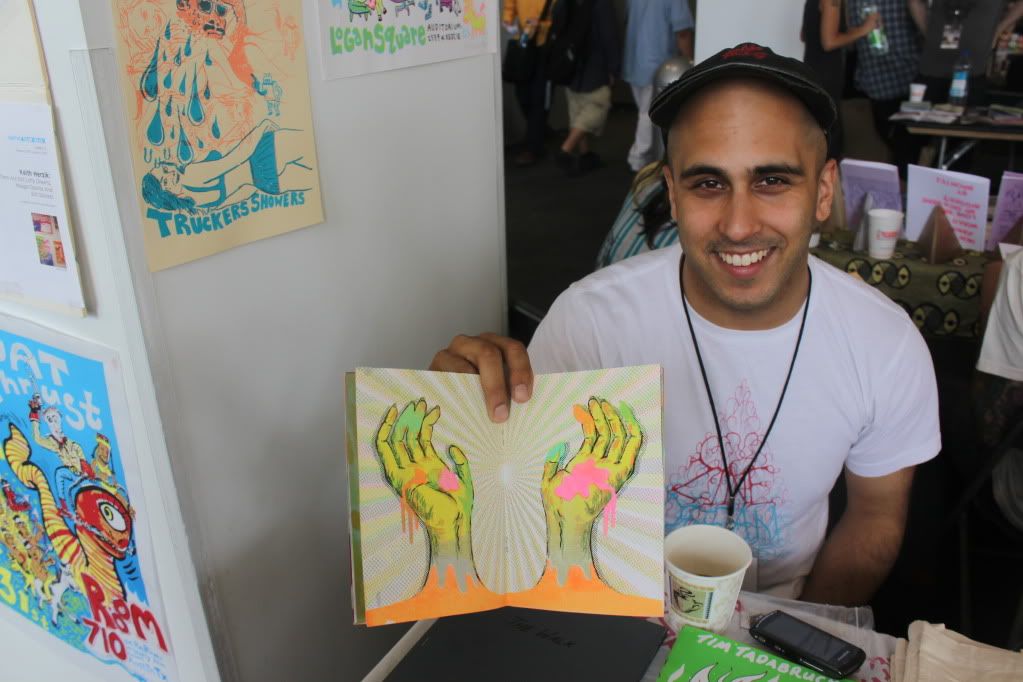 cool dude Jesjit Gill  holds up his cool dude book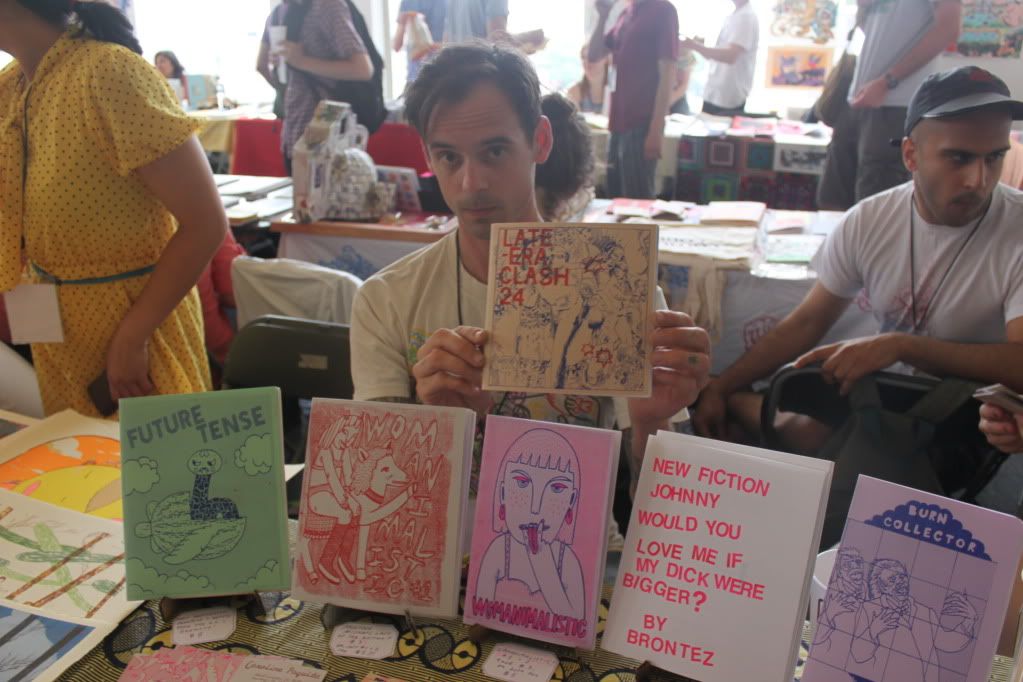 other cool dude mike taylor holds up his cool dude book (which i actually got at brainwaves last week!)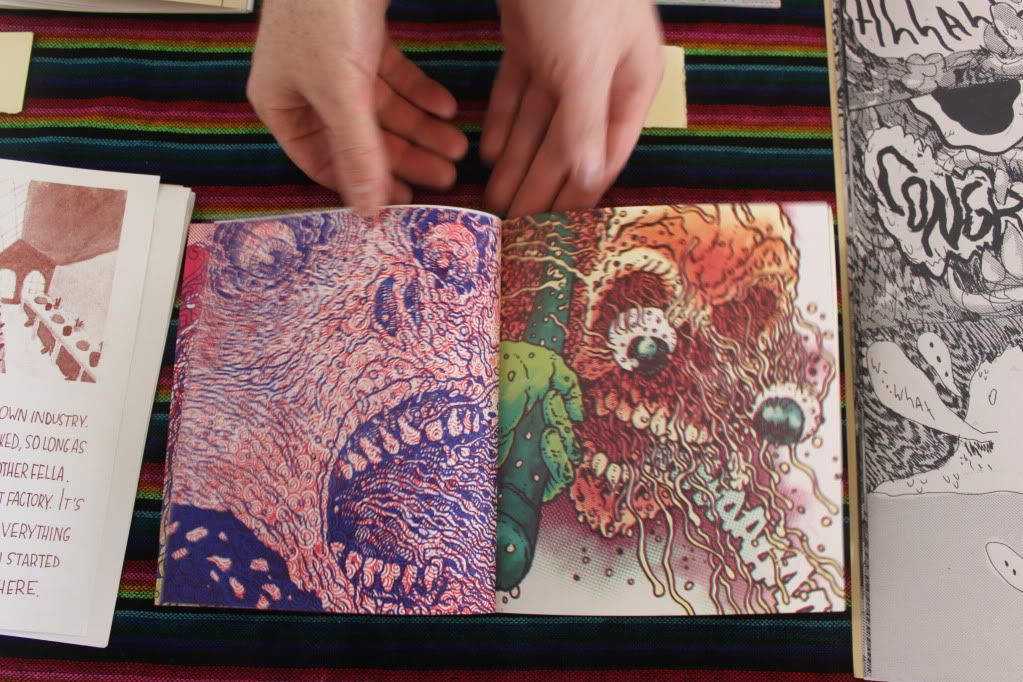 Providence's Paul Lyons duzzit right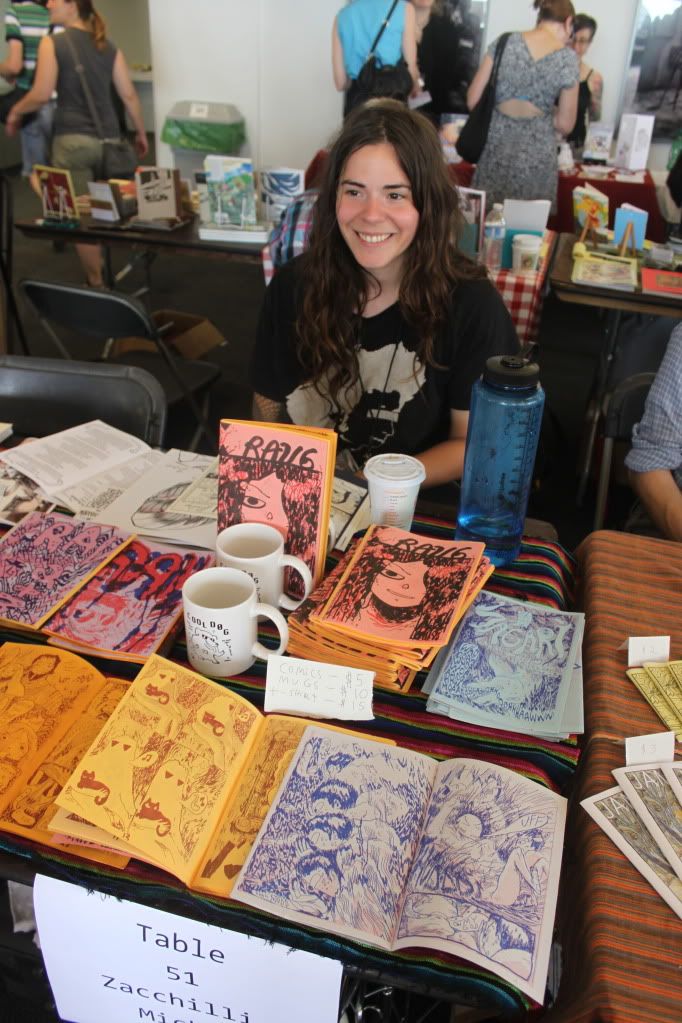 Cool Dogg Mickey Z poses for anotha camera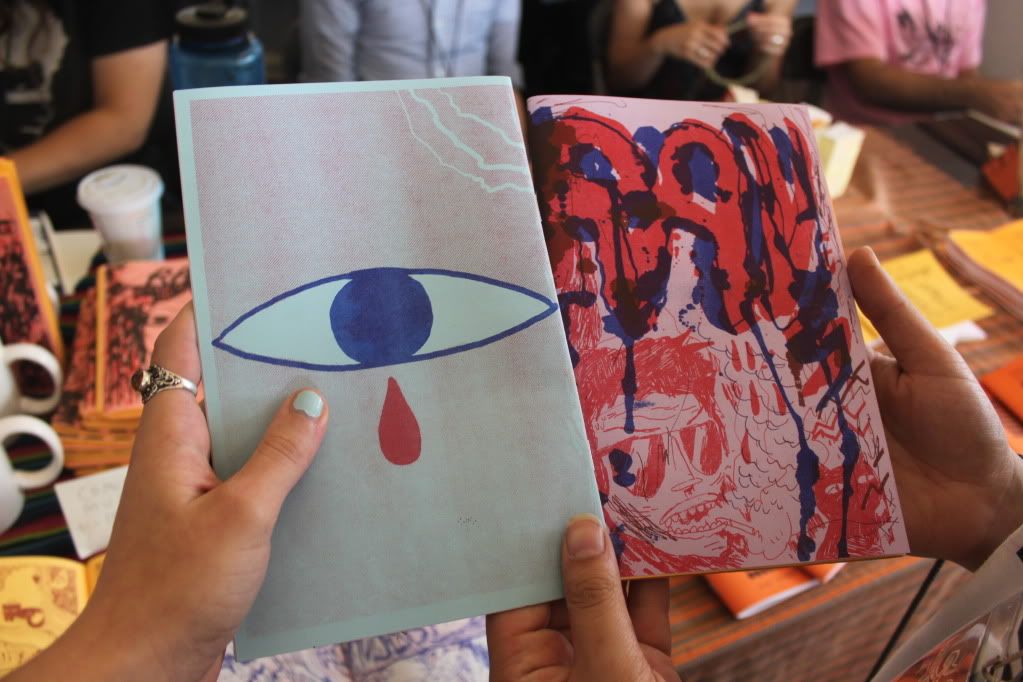 i couldn't rezist! more of mickey's stuff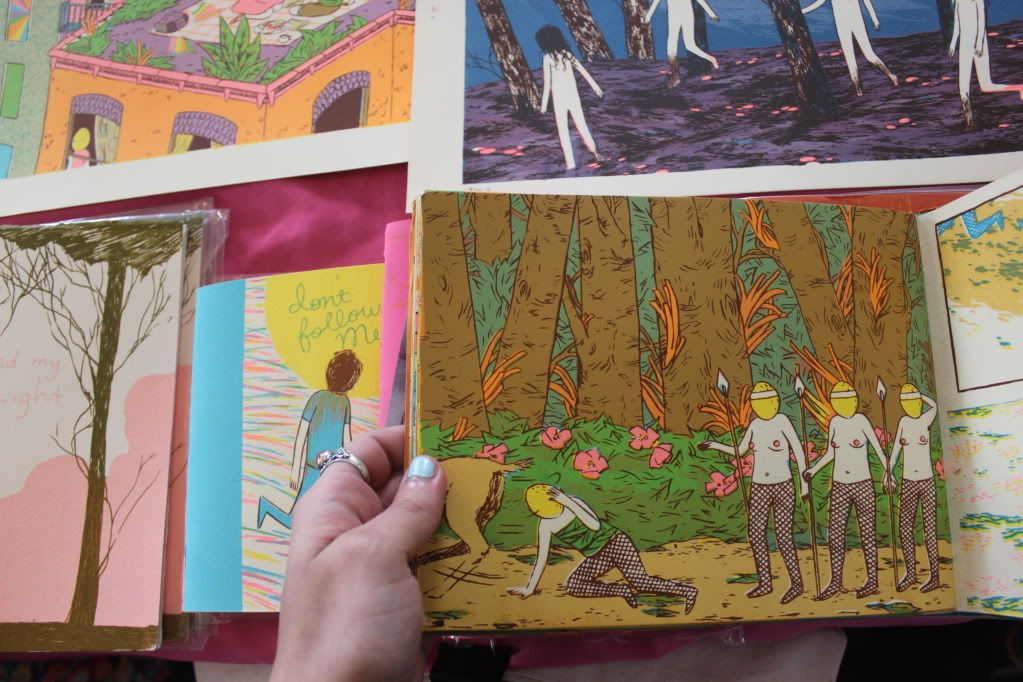 Jen Tong's fully screenprinted comix kicks the shit outttta your photocopies!!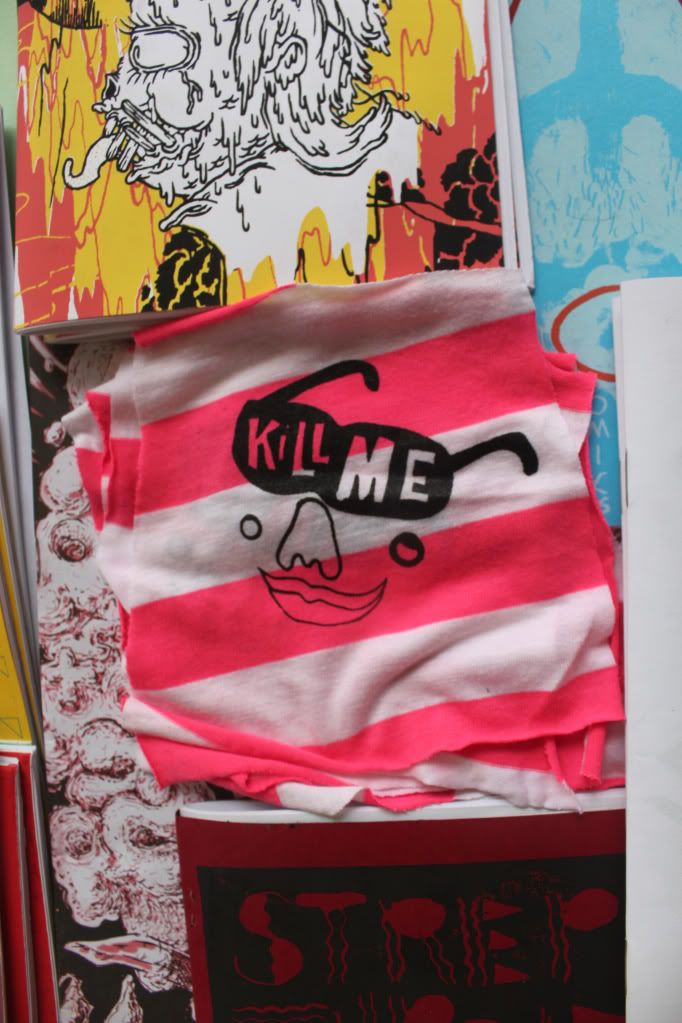 kill me (patch by laura)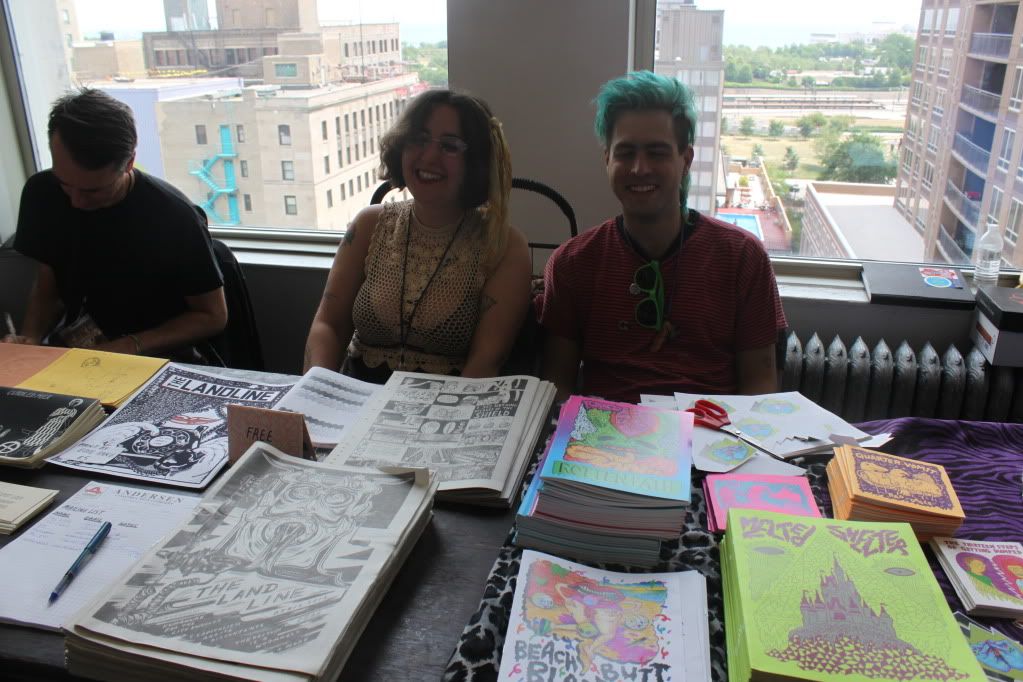 Robin Hustle and Otto Splotch rule!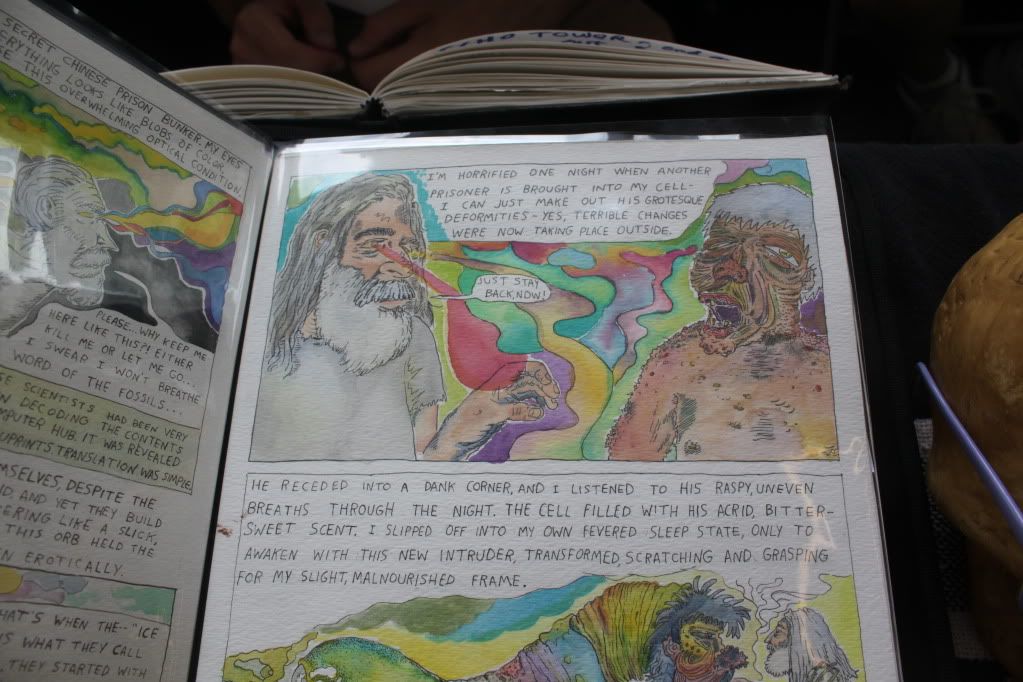 Eric Rivera had some beautiful original drawings on display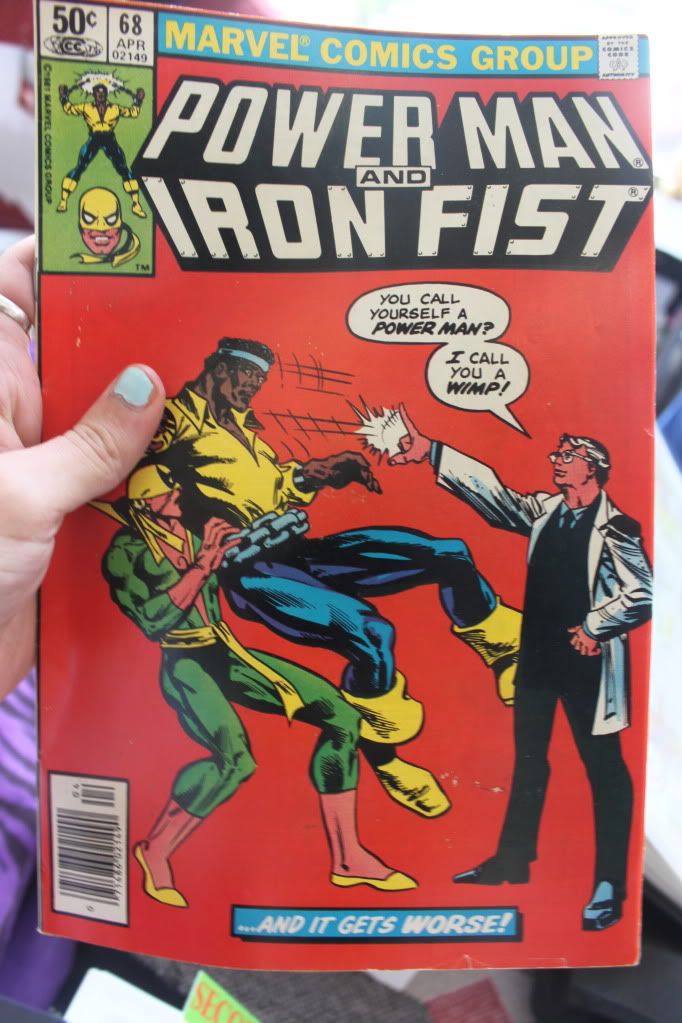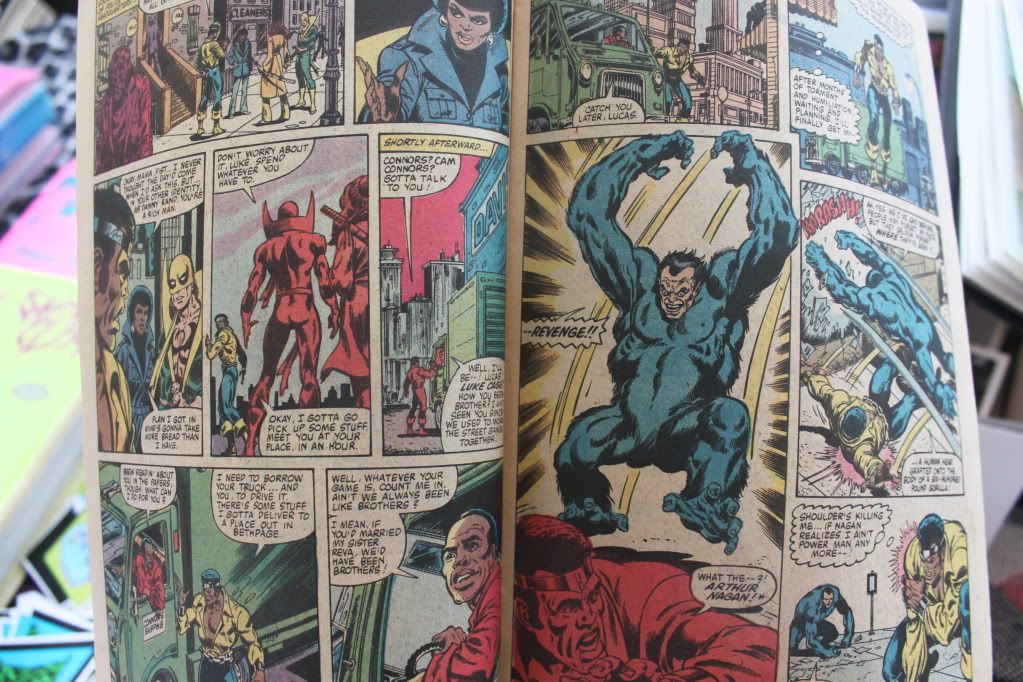 and he also had these fucking awesome vintage books for sale!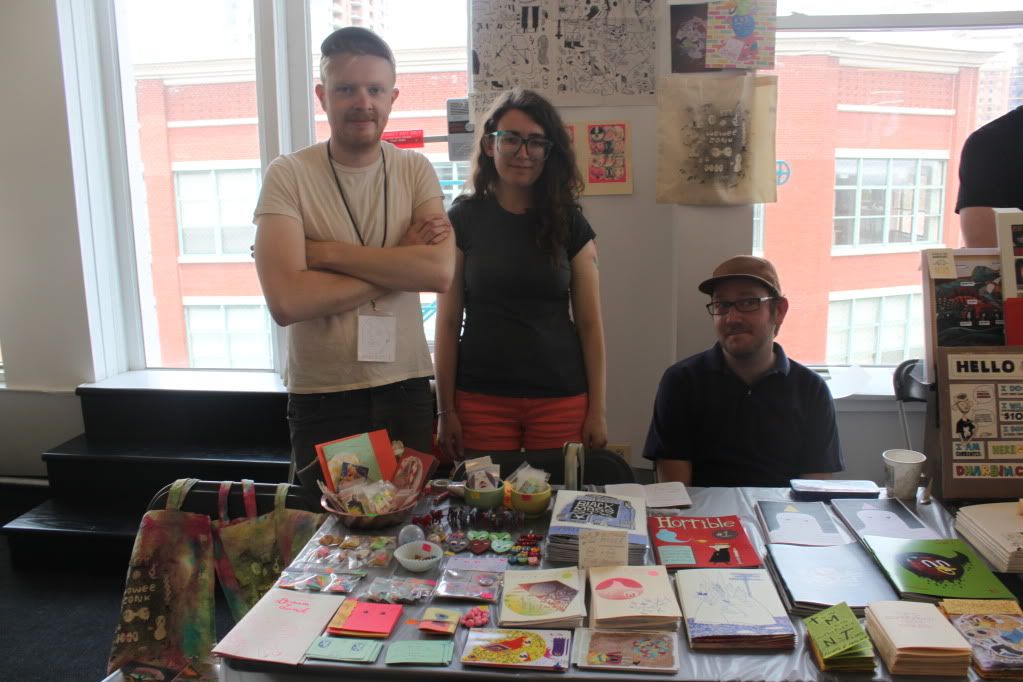 the wowee zonkers posed gracefully despite how zonked out they were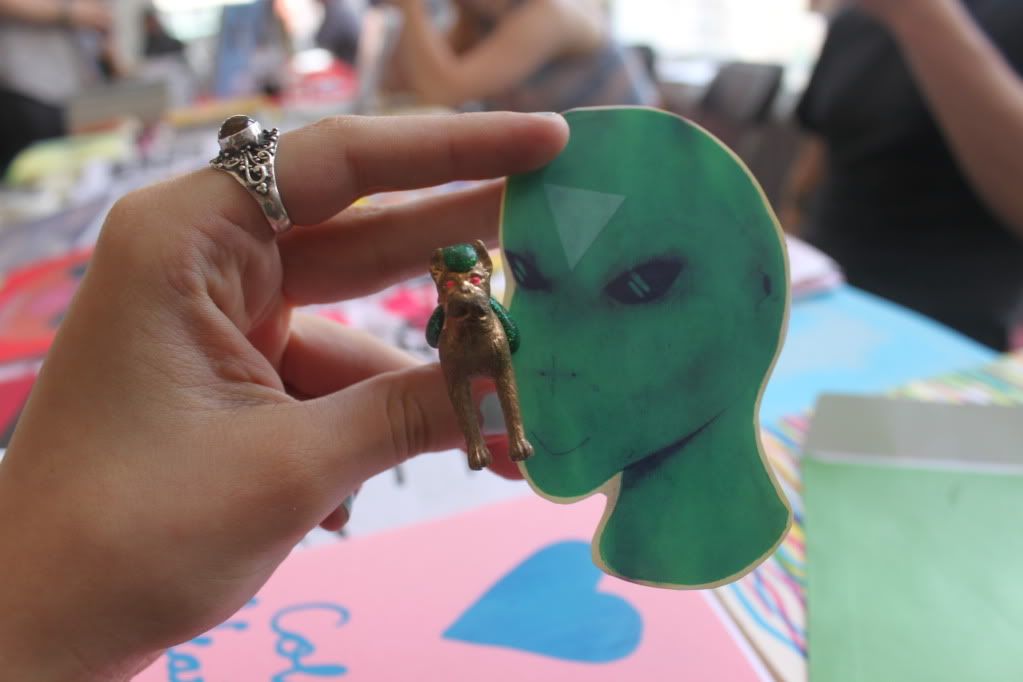 i got this sweet alien sticker and devil doggie from ginette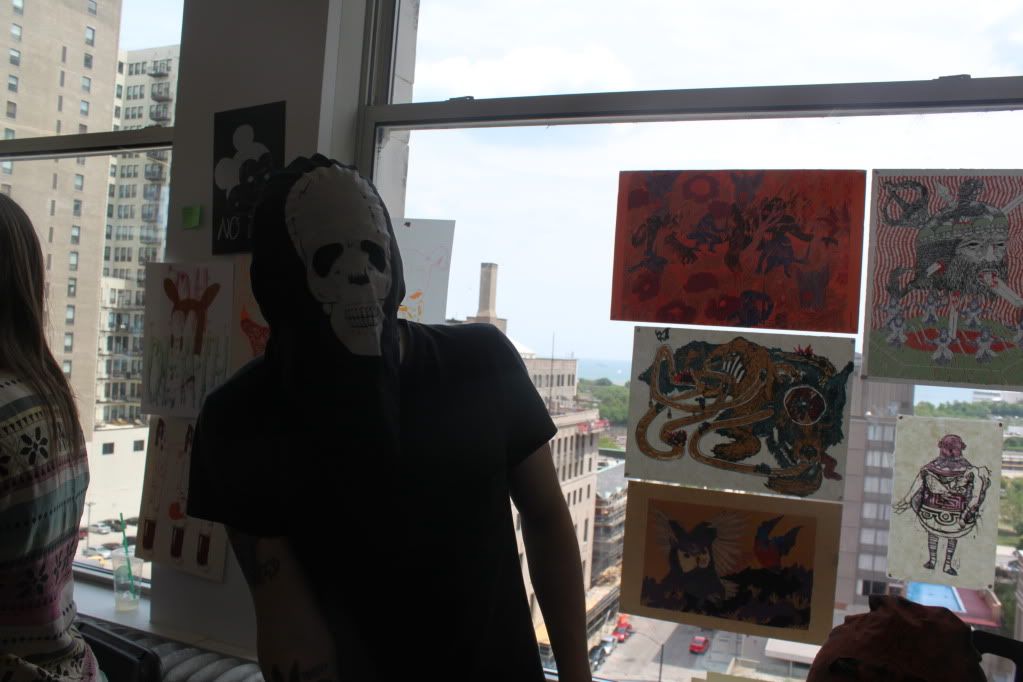 speaking of the devil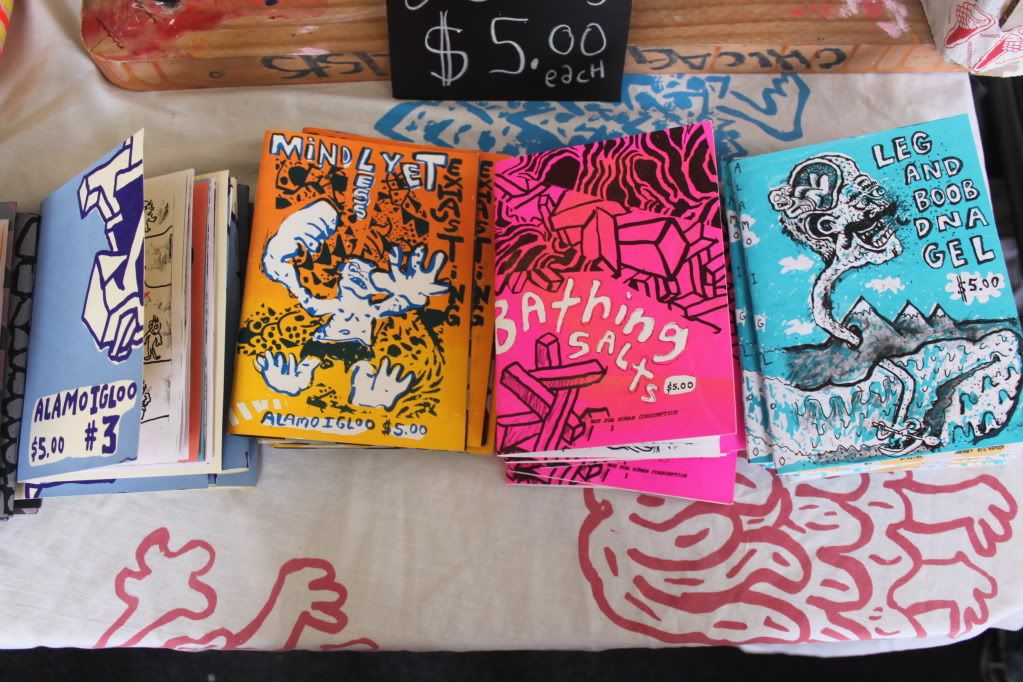 Keith Herzik's Alamo Iglooooooooo
Anthony Meloro fucking rules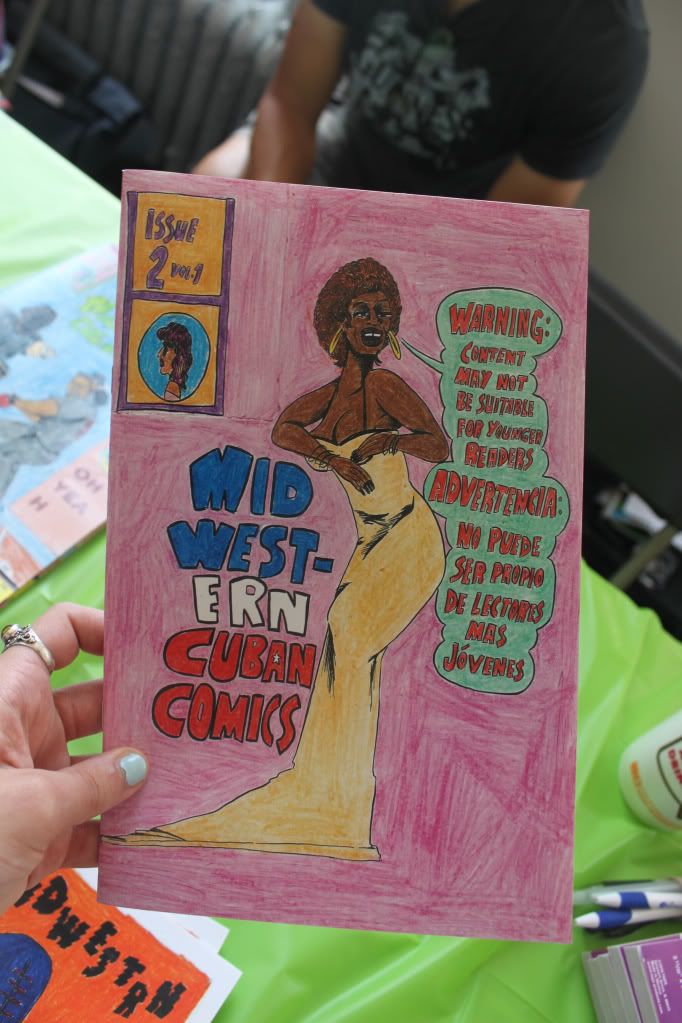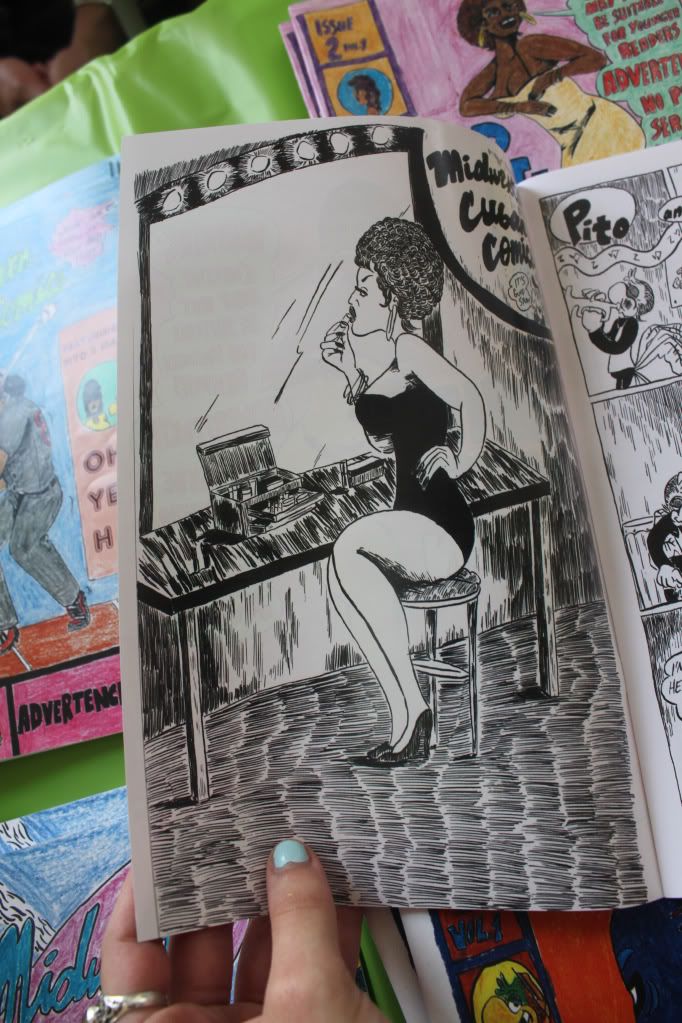 this is possibly the craziest shit i encountered - midwestern cuban comics by odin
i bought three copies of this to give to people - could it be YOU?!?!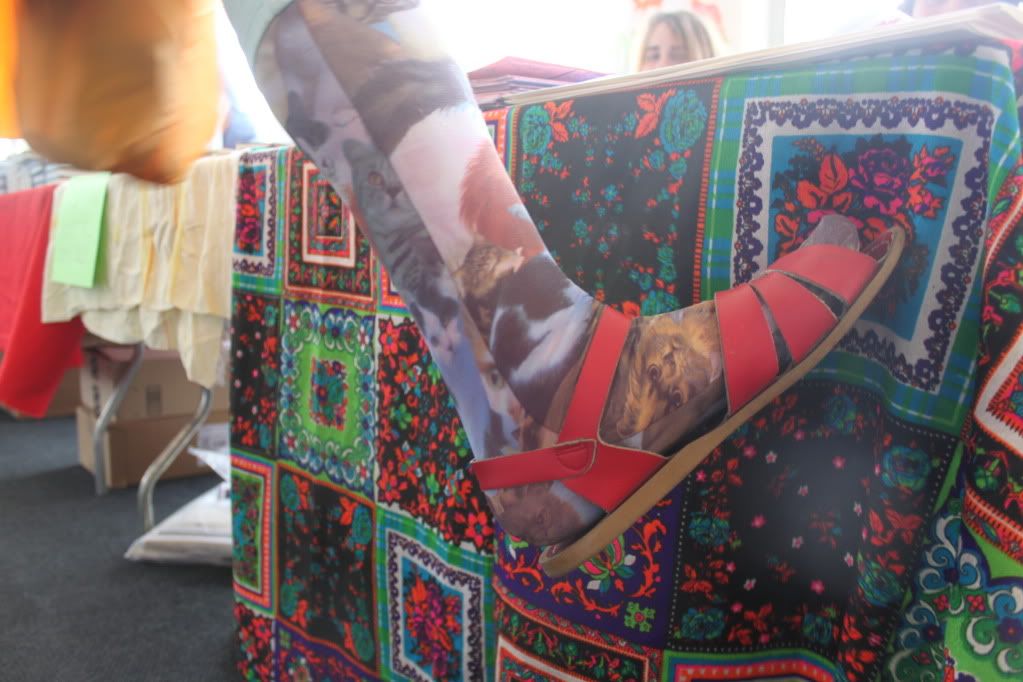 Molly Colleen O'connell's foot + CAT SOCKS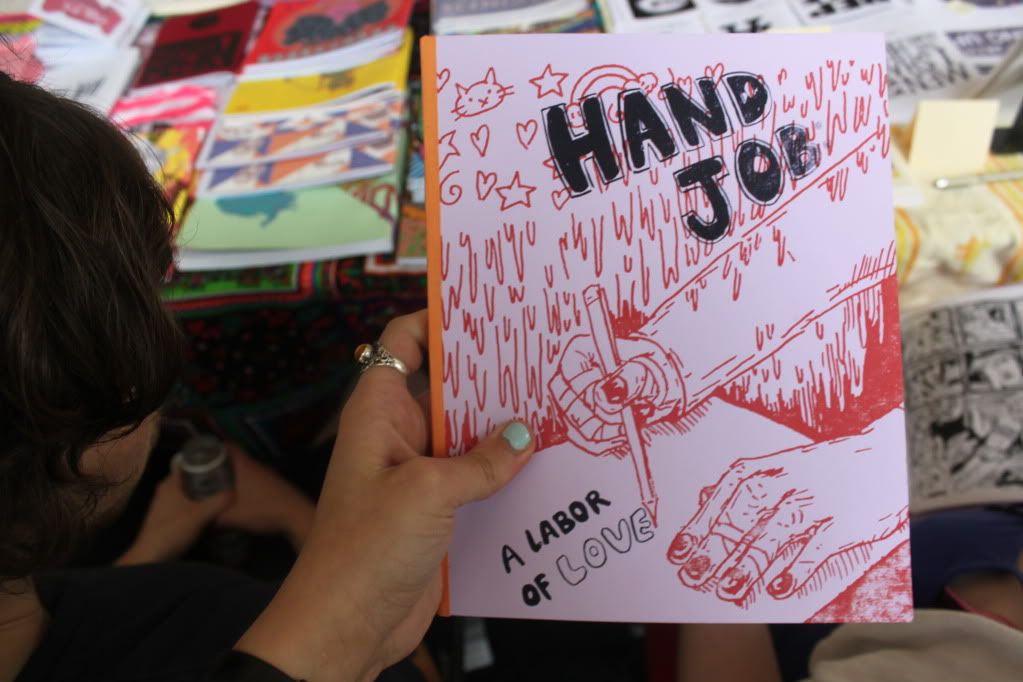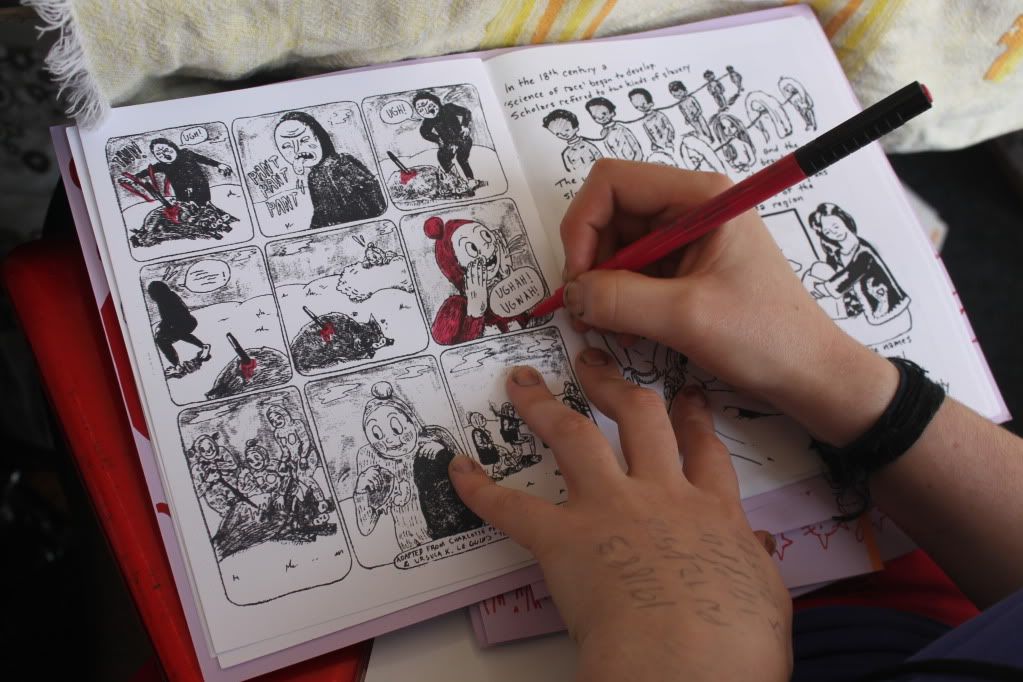 HAND JOB ACTION SHOT!!! (i can't find a link to this, any1 gotta clue?)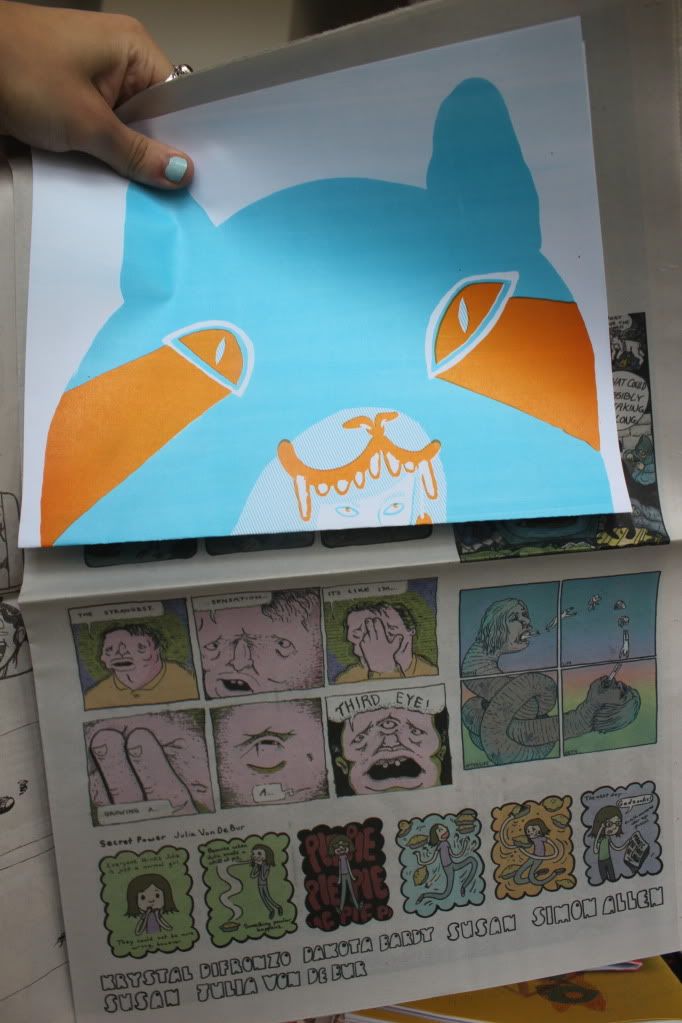 YO, COOL. from xcb #19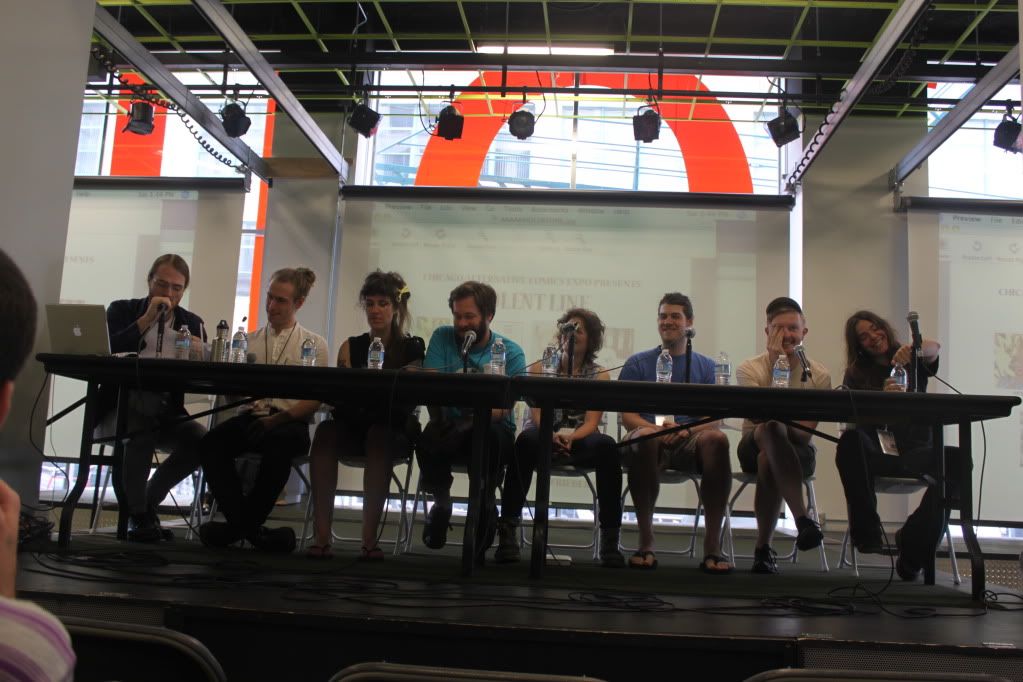 this panel made me laugh and cry all at the sAmE t1mE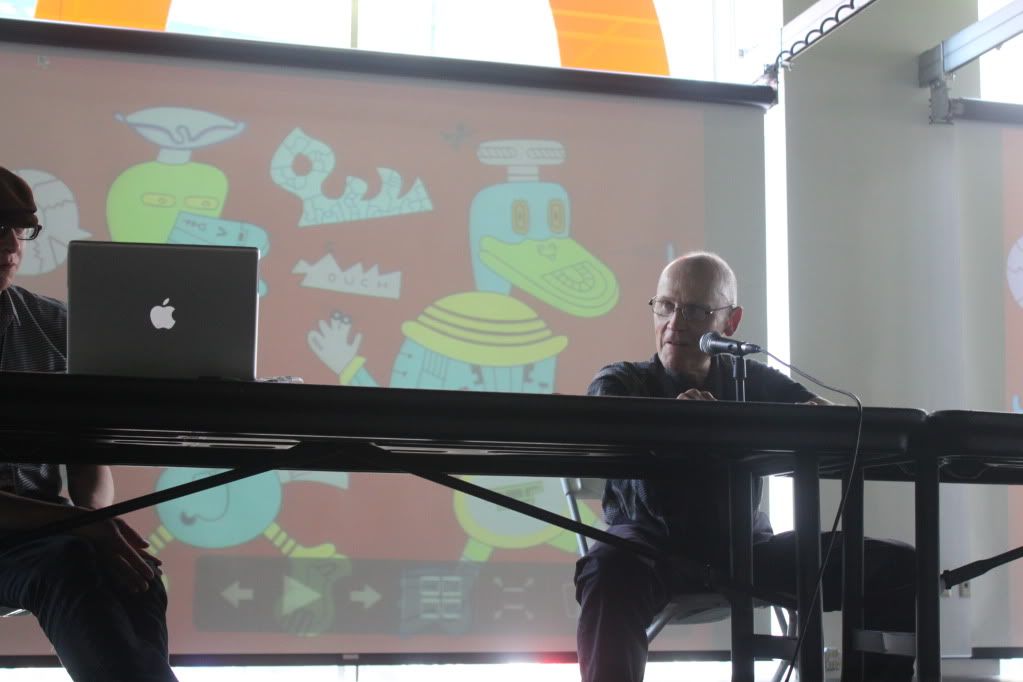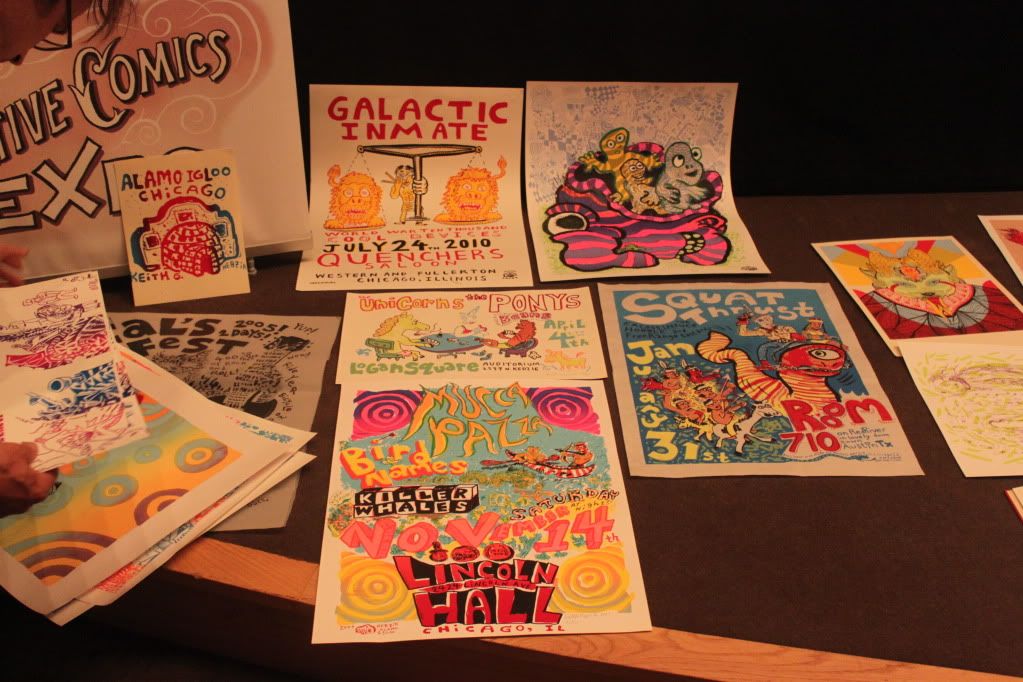 prints!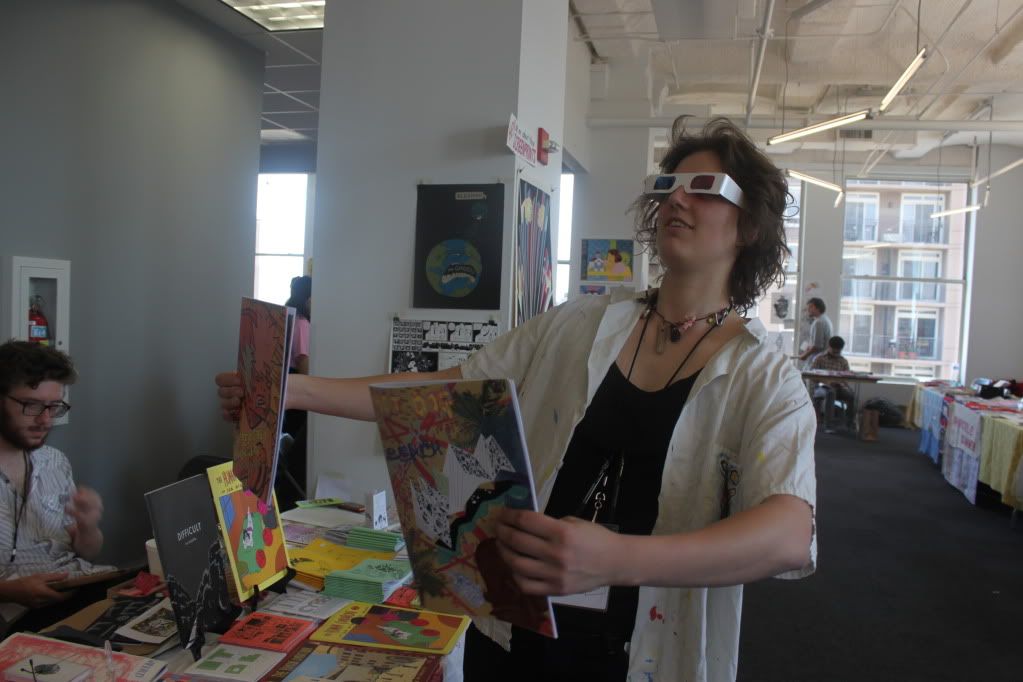 Lale freaking out, man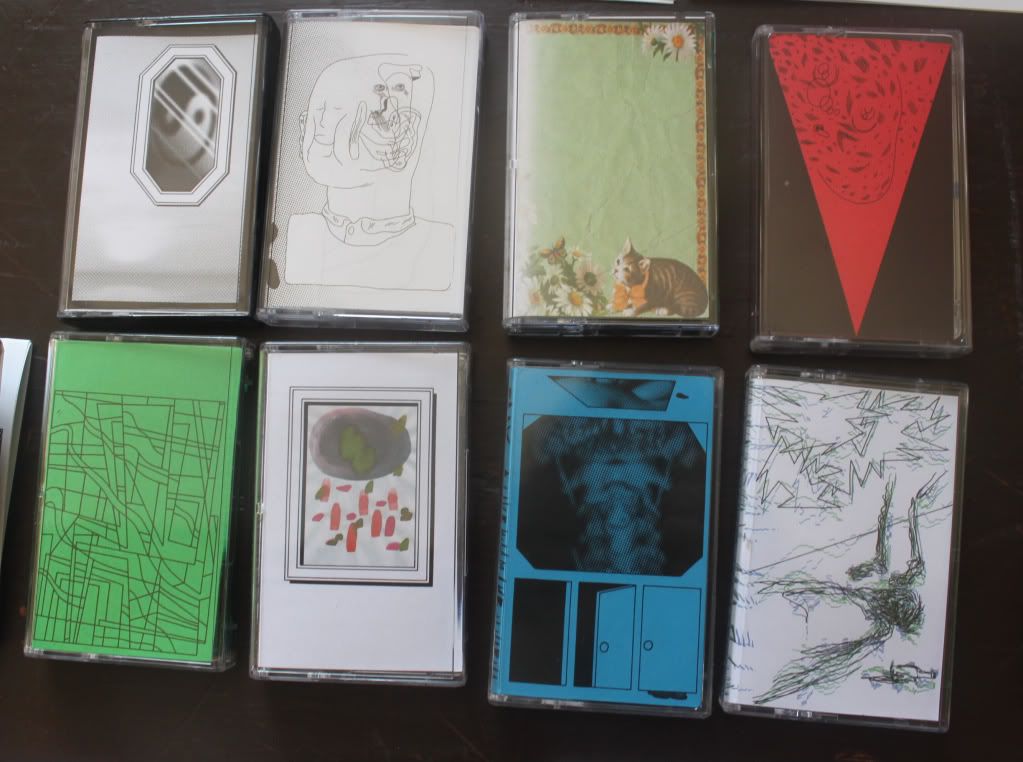 Andy Burkholder designed some rad tapes! RAD FUCKING TAPES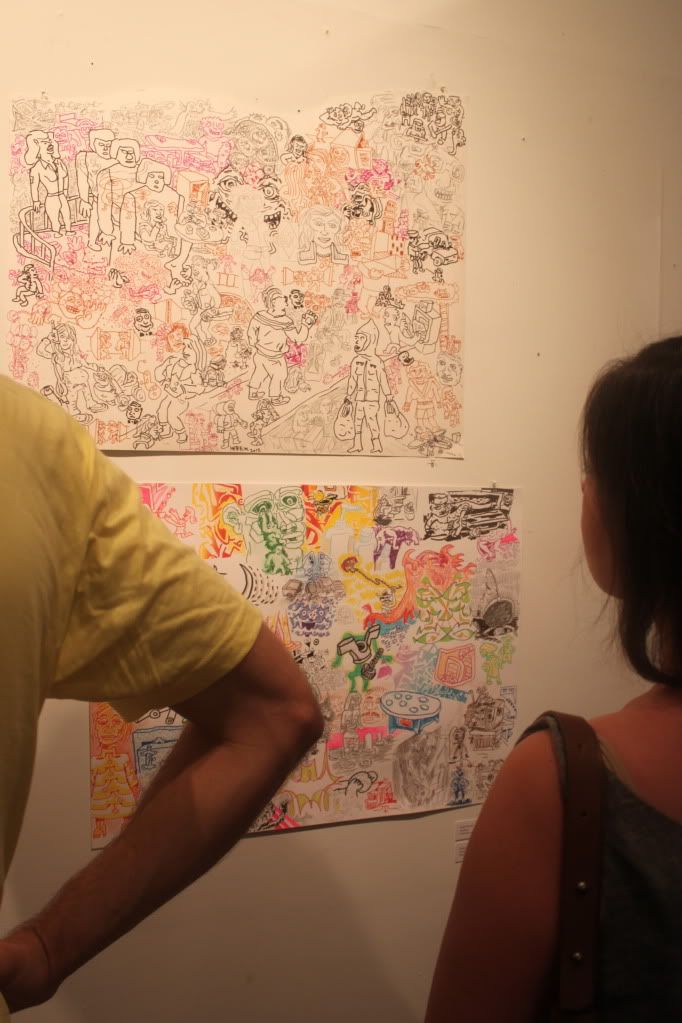 gallery shot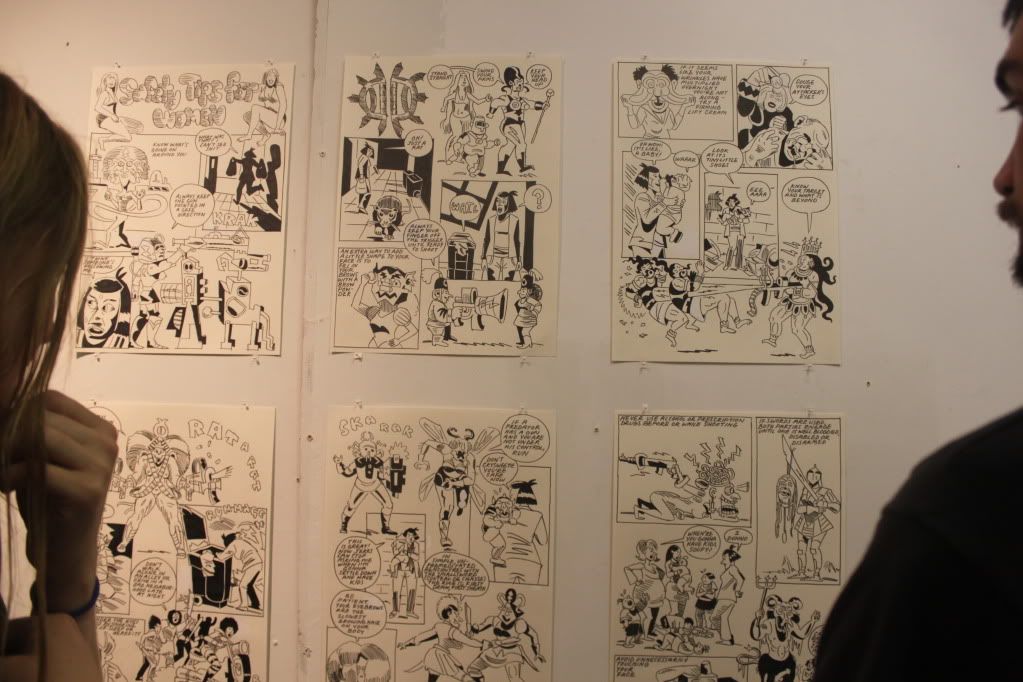 gallery shot of anya davidson's amazing work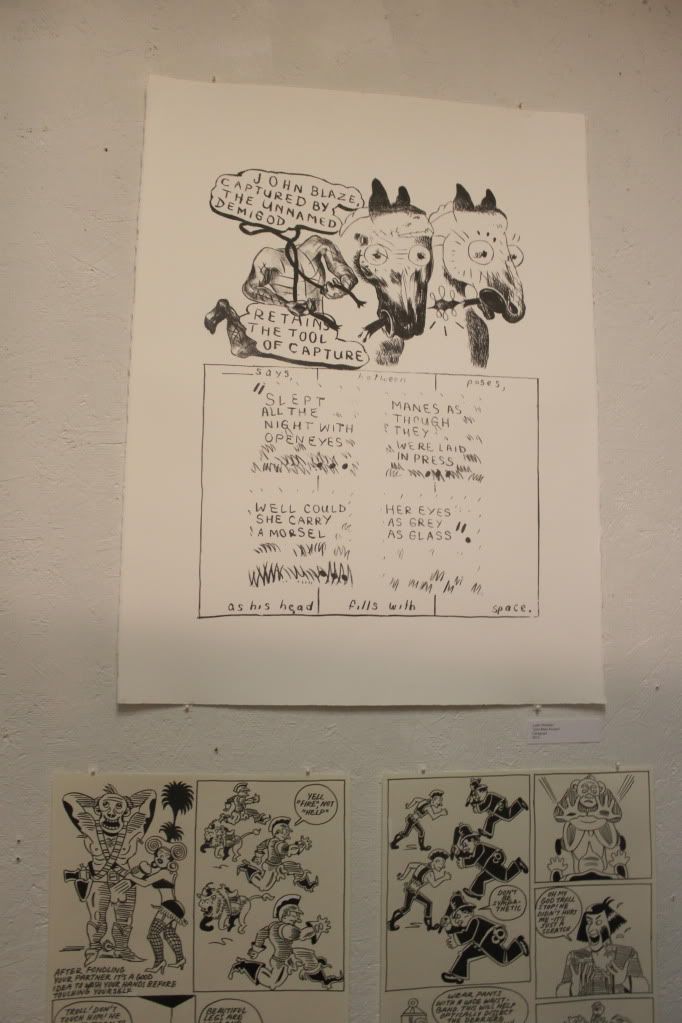 Leslie Weibeler's killer litho prints!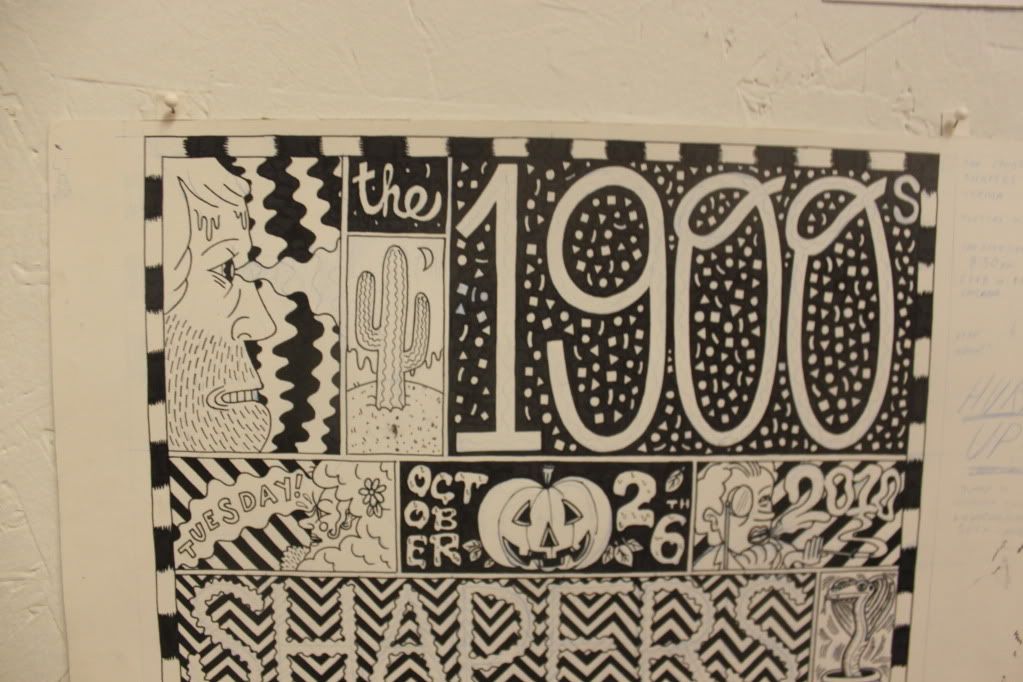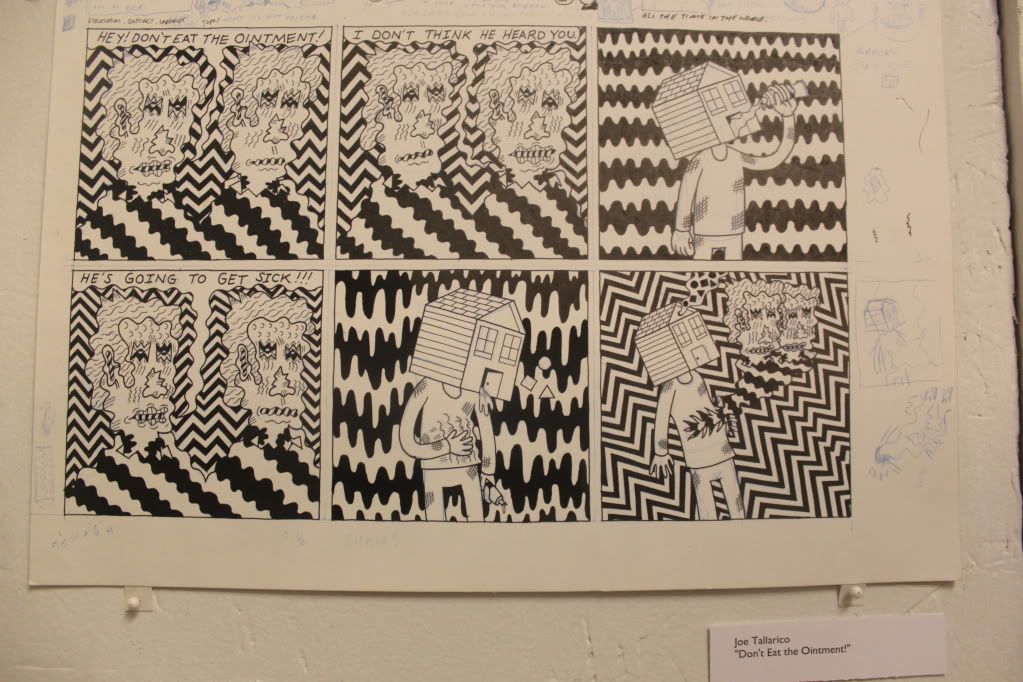 Awesome drawings by Joe Tallarico
AAAANdddd at some point i lost interest in obsessively documenting everything i found drool-worthy (ok, i was hung-over as fuck on sunday), but it's probably a good thing because i dont feel like uploading any more freakin' photos.
So last but not least, here's the big shebang of all da shebizz i got: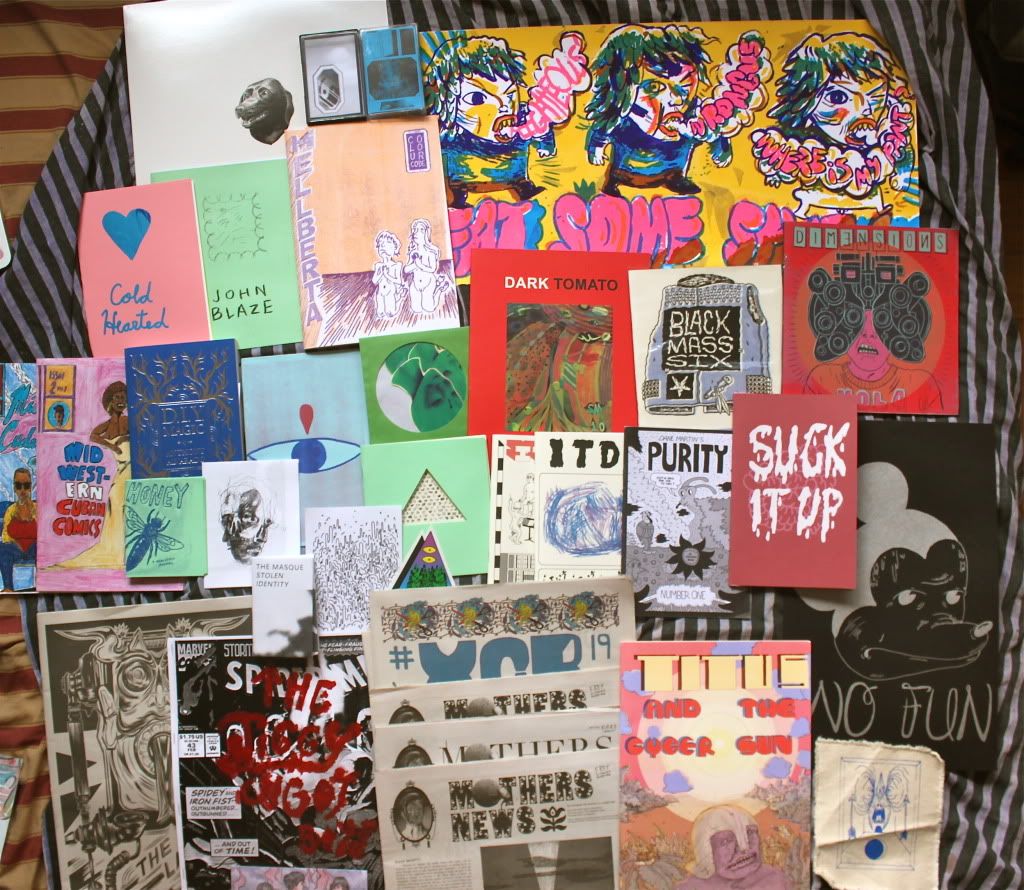 WITCH HAT VINYL BY WITCH HAT//TAPES BY ANDY BURKHOLDER//SCREENPRINTPRINT BY MICKEY Z AND MIKE TAYLOR//COLD HEARTED BY LAURA PEREZ HARRIS//JOHN GLAZE BY LESLIE WEIBELER//HELLBERTA BY MIKE COMEAU//MID-WESTERN CUBAN COMICS BY ODIN//D.I.Y. MAGIC BY ANTHONY ALVARADO AND VARIOUS ARTISTS//HEADS BY RACHEL NIFFENEGGER//THE MASQUE STOLEN IDENTITY LINK THINGAMAJIG//SAGARI A TRUE STORY BY MICKEY Z//STICKERS BY GINETTE LAPALME, OTTO SPLOTCH, AND SOME GUY THAT CAME TO OUR TABLE//SMALL ADVICES BY SARA DRAKE//DARK TOMATO BY SAKURA MAKU//ITDN 1 & 2 BY ANDY BURKHOLDER//BLACK MASS SIX BY PATRICK KYLE// DIMENSIONS 4 EDITED BY ZEJIAN SHEN COVER BY HIROMI UEYOSHI//PURITY BY DANE MARTIN//SUCK IT UP ZINE AND NO FUN PRINT BY KRYSTAL DIFRONZO//THE LAND LINE NEWPAPER//THE JIGGY JIGGY BOYS BY A DUDE WHO DOESN'T EXIST ON THE INTERNET BUT WHO'S CONTACT INFO I WROTE DOWN SOMEWHERE//MOTHER NEWSES & XCB #19//TITUS BY LALE WESTVIND//AND A BADASS PATCH BY SOME GUY WHO DIDN'T GIVE ME HIS NAME BUT REALLY WANTED TO GIVE ME HIS BADASS PATCH