OPEN SPACE PUBLICATIONS & MULTIPLES FAIR RECAP:
Got back last night from Baltimore where I attended the fair and related events. It was my first time in the city and was an overall positive experience thanks to all the righteous people I got to interact with - cartoonists rule!
Above is a picture of the things I got. The festival was made up of people selling kewl jewelry, prints, tee-shirts, overpriced photo-collage-essay zines, and comics. I forgot to take a picture of my table (which I shared with Cory and Tom and Lale), so just imagine a picture of us and all our crap lookin' stupid. P.S. This is the first festival where I almost sold everything I brought! Woo-hoo!
Anyway, I want to highlight some of the righteous cartoonists I interacted with, so here goes:
Noel Freibert is righteous because he let me stay at his gigantic place, in which I got jealous of Baltimore's cheap & available real estate situation — ideal for crazy artists! But also he is righteous because he does a ton of cool (and totally unique) art, puts together a really innovative anthology, and also curated the Tortured Page exhibit and let me be in it.
It was a great concept and well-executed, from the theme and statement to the artist submissions to the installation and environment. You walked in and there was Noel creepily sitting in this big chair in a small spot-lit room to greet patrons. Then reading from one tortured comic to the next, I started with Andy Burkholder's piece which I don't have an image of but was a text piece about how one can't empathize with a one-dimensional character, and this dude is there poking his eyes out. I'm not sure if Andy was being self-deprecating or not, but I interpreted it as a statement on gore in movies (or other media) not being effectively torturous for the viewer since the characters in such movies are totally underdeveloped. IT WAS TOTALLY ON POINT, MAN.
Some of my other favorite pieces were those by Dunja Jankovic, Leslie Weibeler, Molly Colleen O'Connell, Conor Stechshulte, and Lale Westvind. I believe a zine is going to be made to collect all the different pieces so you should be able to see them for yourself soon! (but also I just didn't bother to photograph anything). I was a bit surprised as to how many people took "tortured" pretty traditionally (i.e., body mutilation), as I was expecting more people to interpret the theme a bit differently. My piece was about a girl having an emotional breakdown over a guy, and the idea was how to torture the viewer with her ridiculousness/stupidity (kinda like in an I Love Lucy or Keenan and Kel kinda way). 
Above: Excerpt from my submission to The Tortured Page
Righteous person #2 - Molly Colleen O'Connell. Molly makes prints and comics that are loosely inked and are usually pretty humorous, with fine attention to detail. Here is a screenprint I got from her:
The poster is an advertisement for FREAK FLASH, an animation screening that she curated at The Floristree on Saturday night. It was the best collection of animated videos I have seen in years and I suggest everyone go check out the works by all of the contributing artists. After the screening there was a party and some guy got naked and started masturbating on a stage, and I forget the rest. 
Righteous Person #3 is Jason T. Miles. Dude is just righteous, what can I say?  Here is an excerpt from a comic I got from him: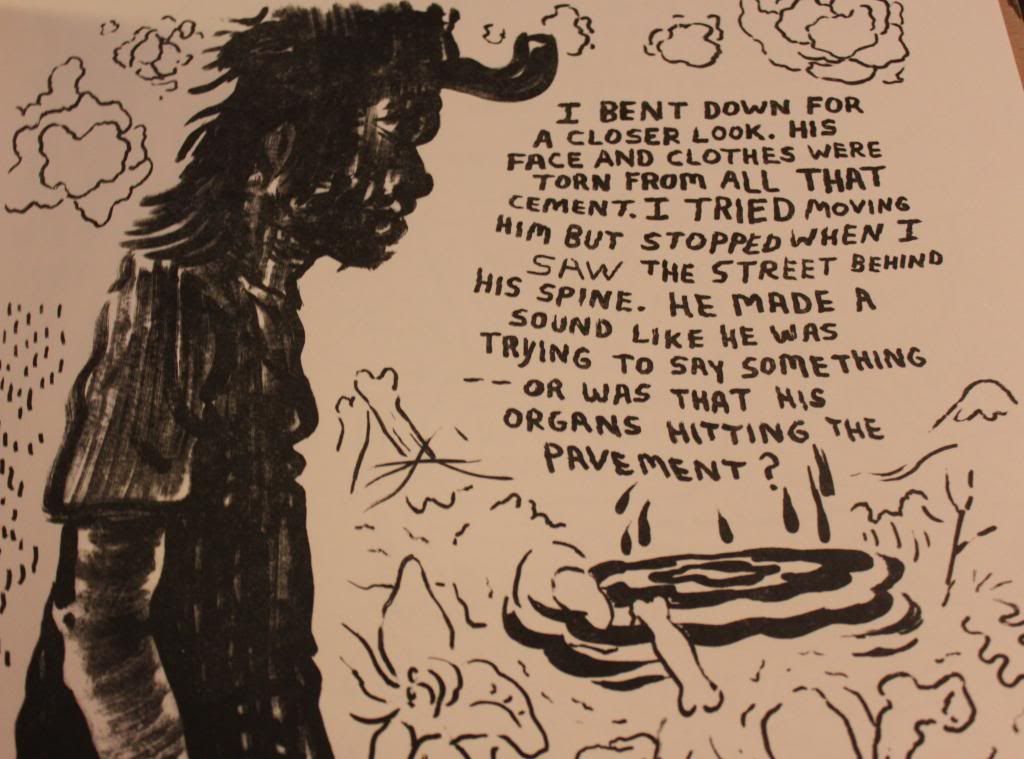 Jason is from Seattle and seems to be doing all the right things, making good shit happen. From talking to him I think we see eye-to-eye on a lot of issues, so I support his status as a shit-happener. He also just discovered the world of tumblr and I wish him best of luck on his journey. 
Righteous person #4 is Matthew Thurber, because he made this image of the Punisher:
Actually he made it in collaboration with someone else but I forget who that was. If someone knows feel free to message me.
Matt Thurber was aslo on the Bolt Bus with me going home on Sunday night, but he was sitting in the front and I was sitting in the back and idk, it didn't seem like the right time to intrude. Some lady was smoking in the bathroom and these other ladies flipped out about it and I just stared at the backseat of the chair in front of me for 3 hours because my headphones broke, there was no internet, and all the lights were off. The Bolt Bus kind of sucks. 
Righteous Person #5 is Jacob (not Jakob) of Mothers News because everything that comes out of his mouth is fascinating and kind of hilarious (like the newspaper!) He gave a bunch of copies of Mothers News to Cory and Cory was all like, "yeah!"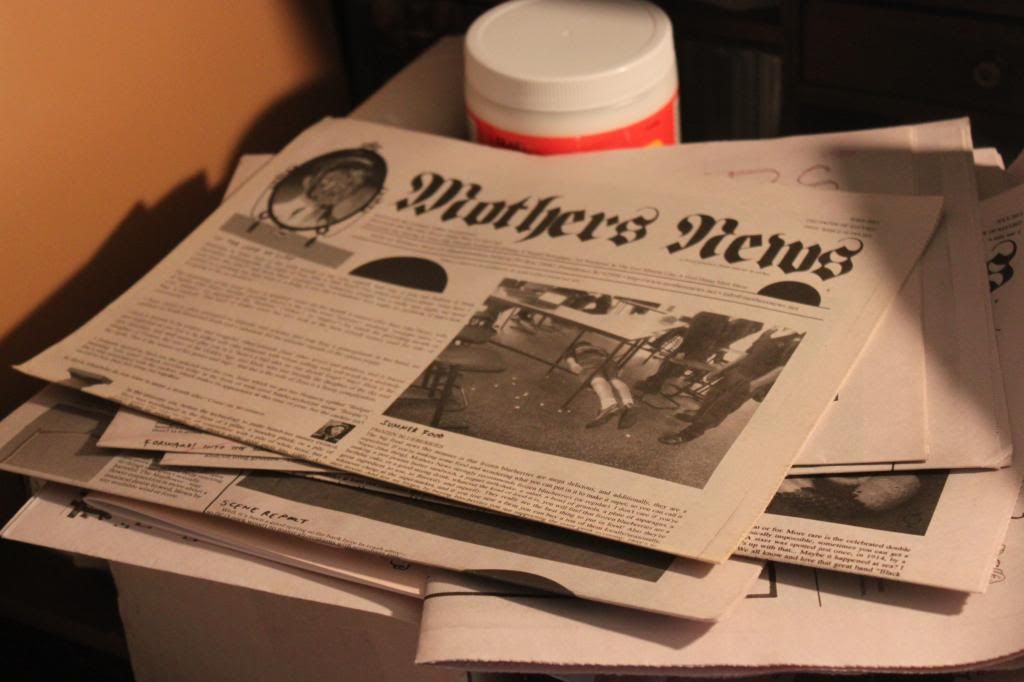 Last but not least, righteous person #6 is Mike Taylor because Mike Taylor is the best darn cartoonist I know. He is also a pre-school teacher and  a punk. BEST PERSON EVER? I would link to a website but I'm pretty sure he is bad at internet and doesn't have a site, so here is some of the awesome work I got from him instead: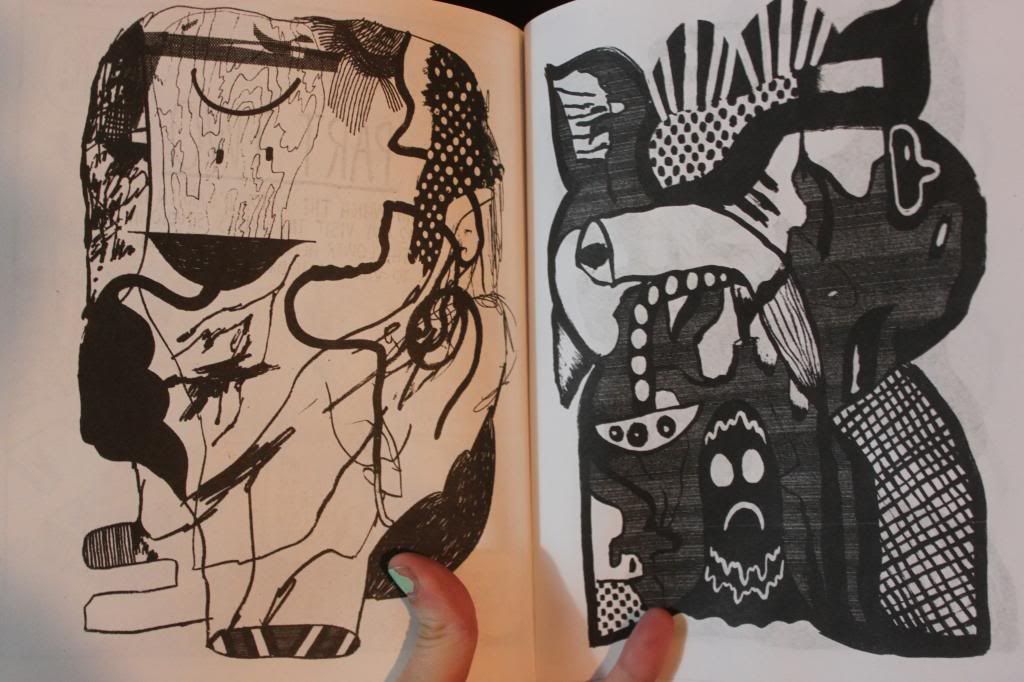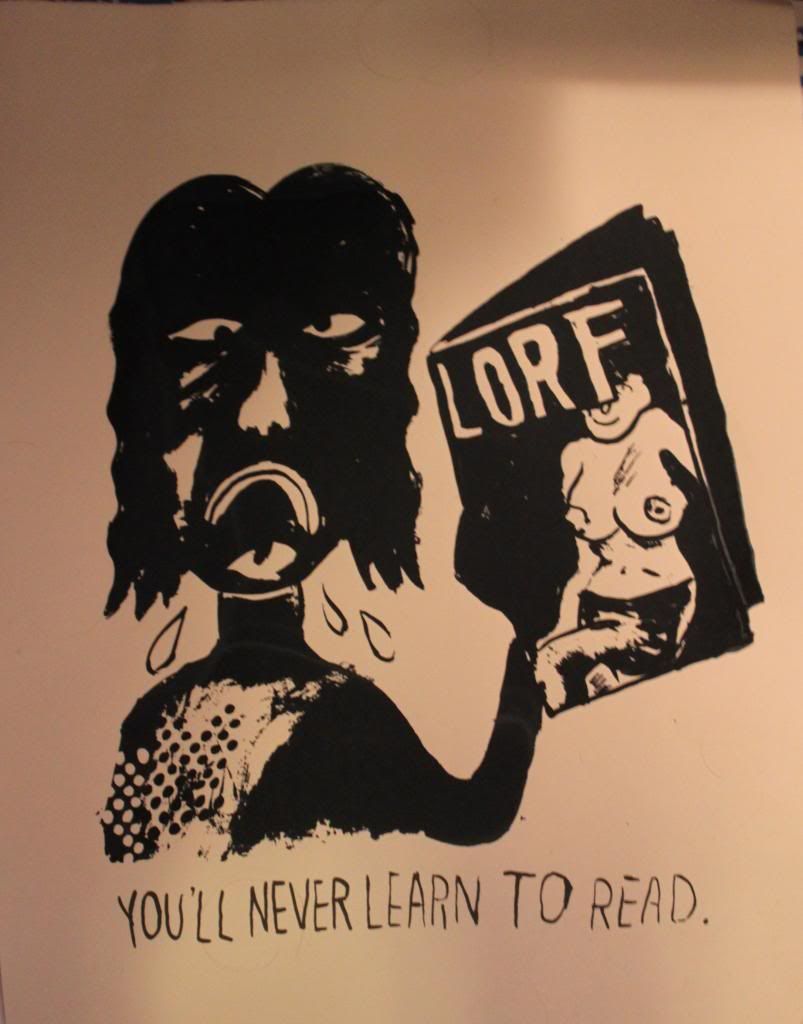 That last image of his is this screenprint I bought and is THE GREATEST THING EVER. He said it was about "what if kindergarden was a place to crush children's souls" and then added "(it is)", which only makes this print even more fucking incredible. 
In short, Baltimore was cool, as were the people in it, even if half of them were actually from New York. R-E-S-P-E-C-T